848 Easy Clean Juicer
Regular price
$299.99
Sale price
$229.99
Unit price
per
Sale
Sold out
Available in Black and Red - Choose when adding to cart.
Easy to use and easier to clean:
This was our goal when developing the Sana 848 Easy Clean Vertical Juicer. Highly efficient, quiet, and quick to use. But, most importantly, very quick and easy to clean. Using grooves instead of mesh filters, the hardest parts of a juicer to clean, have been removed. A quick rinse, and you are done.
Juice up to three days in advance
Here at Sana USA, we are always looking for ways to make juicing easier. And with the Sana 848, we have an innovative way to achieve this - vacuum storage. By vacuum sealing your juice, it will keep the maximum amount of flavor and nutrition for 72 hours. The Sana 848 includes an XL 1500ml vacuum juice container and pump to make that possible.  Let's say you are following the popular 500ml daily celery juice regimen.  On Monday morning, you can make your 500ml of juice, pour it in a glass, and then continue juicing until the container is full.  Just snap on the lid, give it a few pumps to remove the air, and you've got enough juice for the next three days. Simply pump it each morning after pouring your daily juice, and you won't need to juice again until Friday.
Pulp Ejection Outlet:
Cleaning out the Ejection Outlet can also take time. Our Pulp Ejection Outlet opens 180 degrees for a quick and simple rinse. No need to dig out pulp like most juicers.
Angled Juice Drum and Juice Outlet:
Most Juice Drums are flat, which allows juice to rest in the juicer. We angled ours so the juice keeps moving. It quickly moves out to the Juice Outlet, which is also angled. The less time the juice spends in the juicer the less chance for oxidation.
43 RPM Low Speed Juicing Technology:
The Sana 848 Easy Clean Vertical Juicer's 43 RPM is the lowest speed available in high quality vertical juicing. The lower the speed, the less chance for oxidation.
High Efficiency:
The auger design, coupled with the strainer design, gets the most juice from the most fruits and vegetables. 
Pulp Control:
With our new strainer design, combined with our juice flap, you can control the amount of pulp in your juice. Leave the flap open while juicing to enjoy a bit of pulp in your juice. If you don't like the feel of the pulp while you drink it, keep the juice flap closed. Let the juicer run for an extra 20 or 30 seconds, then pour the juice. The pulp is still there, but you won't feel it. Your juice will be silky and smooth.
Versatility:
Fruits and vegetables, of course. But, the Sana 848 Easy Clean Vertical Juicer can also juice wheatgrass, celery, leafy greens, nuts, and soybeans to create a variety of fresh cold-pressed juices, smoothies, nut milks, and more.
Warranty:
Sana offers the best warranty in the juicing industry. 15 Years and we expect you to use it daily for those 15 Years. Our warranty covers the motor, all juicing parts, and labor. Most brands only cover parts or the motor for 1 year, even when they quote a much longer warranty.
Quality:
Our Sana 848 Easy Clean Vertical Juicer is made with an impact-resistant ABS plastic body. As well as a heavy-duty plastic strainer and auger. Both materials make our slow juicers extremely durable.
Minimal Oxidation:
Store juice up to 72 hours.
Safety:
100% BPA Free and no sharp parts or blades. 
Silent AC Motor:
Using just 150 watts of power our near-silent AC motor means you can enjoy juicing without the loud whizzing and churning of traditional juicers.
Specifications
Juicing Process: Single Auger Vertical
Speed: 43 RPM
Power: 150 Watt
Voltage: US 120V
Weight (Base): 8.8 LB
Weight (Assembled): 12.4 LB
Weight (Boxed): 18.4 LB
Weight (Shipping): 20.6 LB
Dimensions (Base): 7" Round x 10 3/4" High
Dimensions (Assembled): 8" Round x 18 1/2" High
Warranty: 15 years
Included Parts:
Motor Housing
Chamber
Hopper
Twin Blade Auger
Easy Clean Inner Strainer
Easy Clean Outer Strainer
Easy Clean Smoothie Strainer
Ice Cream Strainer

User Manual
Cleaning Brush
Juice Cup
Pulp Cup
Pusher
Share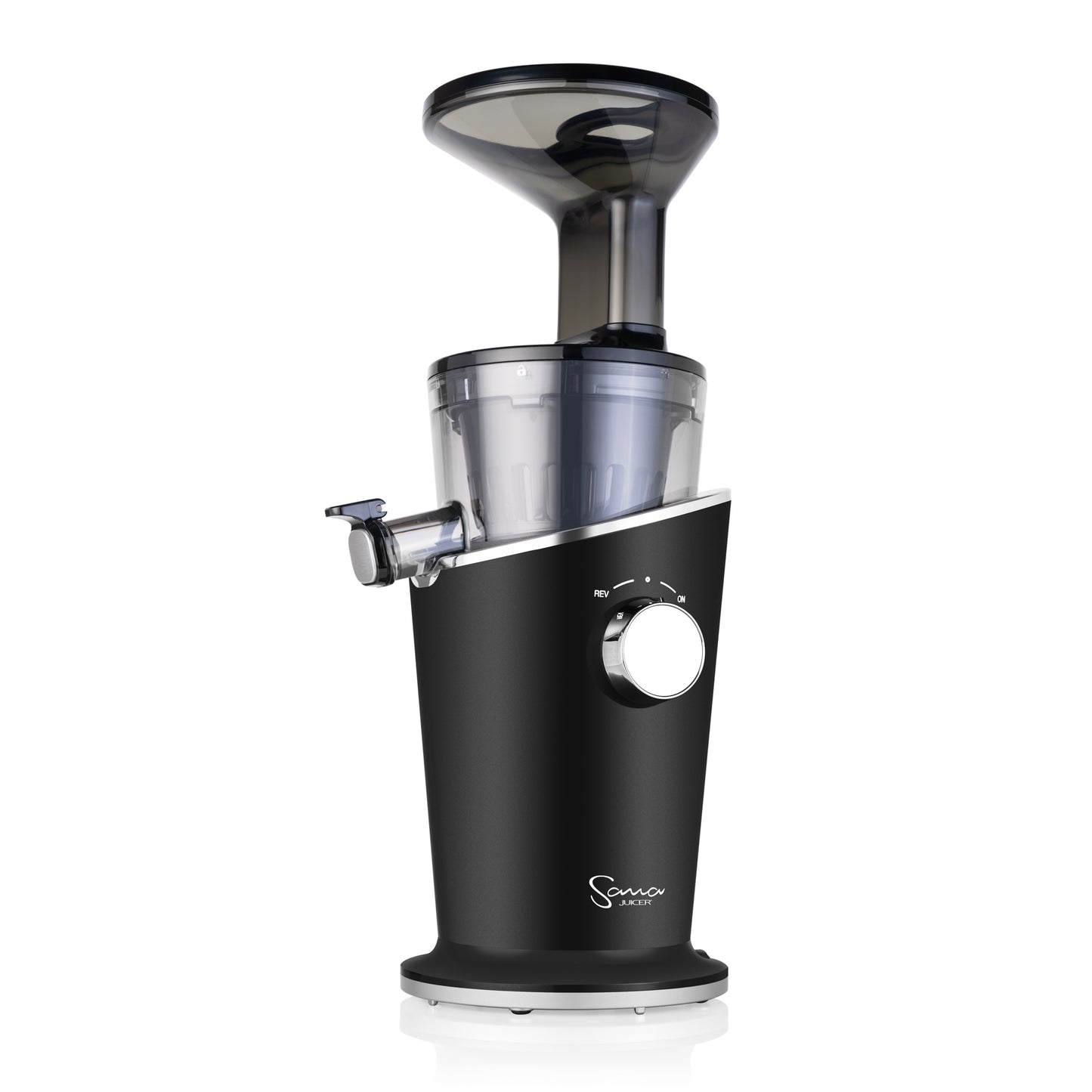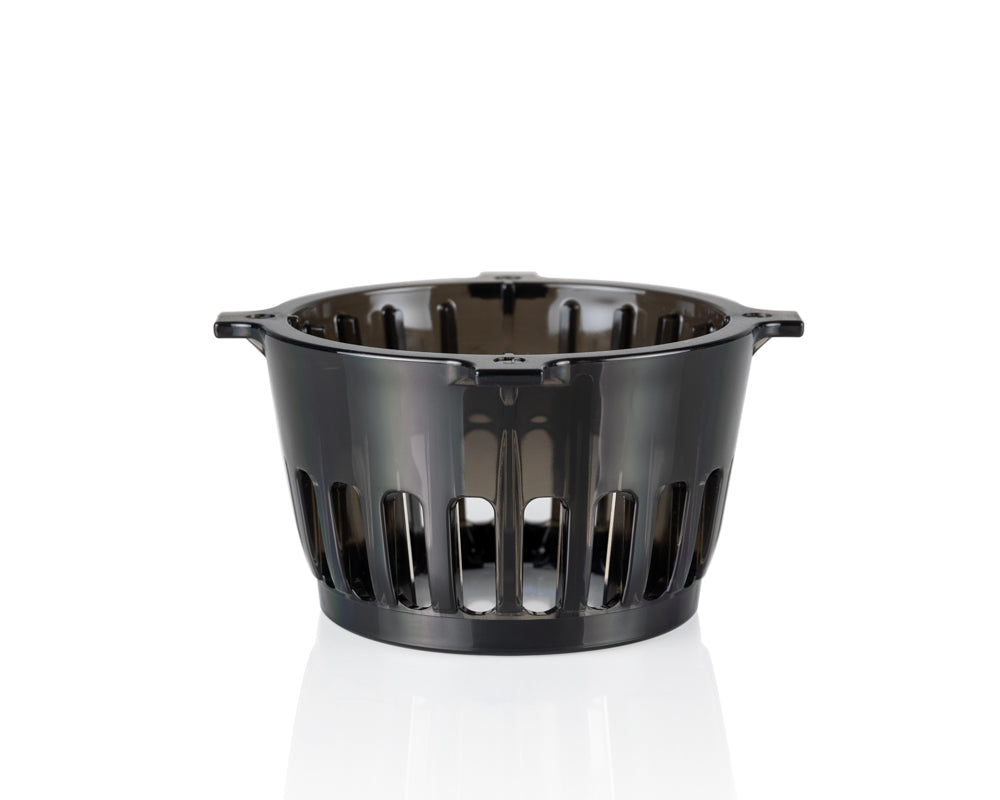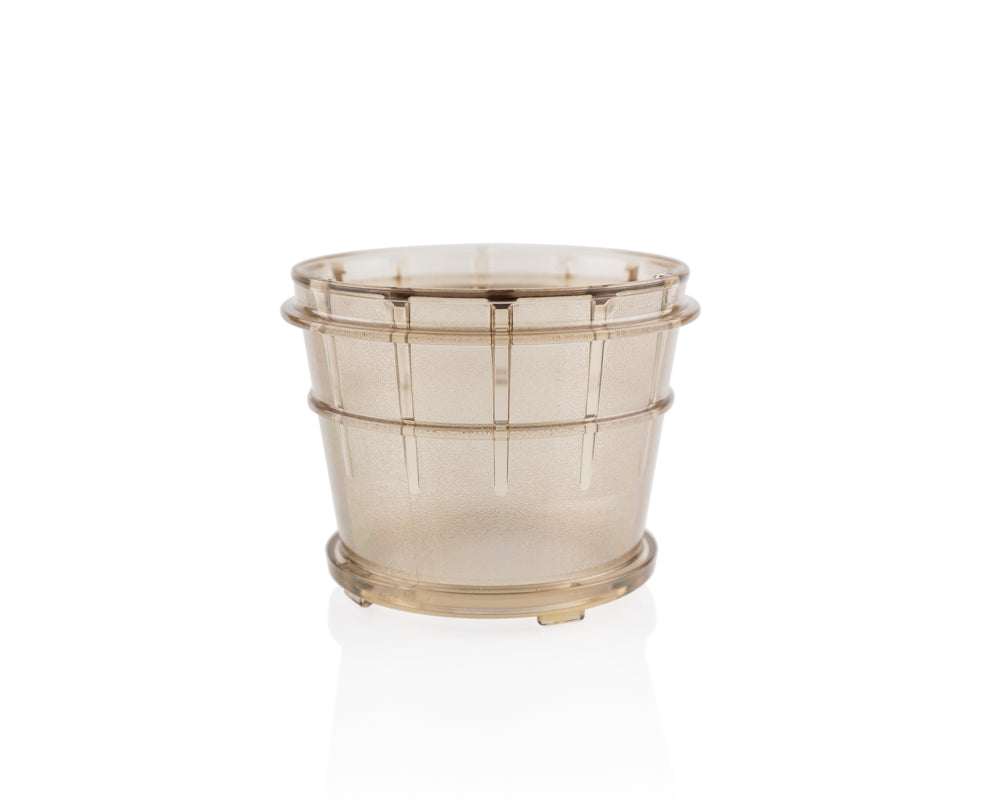 Our Juicers
Regular price

$399.99

Sale price

$300.00

Unit price

per